ISUMO is a rapidly growing independent UK company delivering technology solutions focused on giving you the tools to drive your business success – we're tremendously talented with technology.
We understand operational goals, business as usual targets and the importance of technology and harness every opportunity to achieve great results for your team and clients. Our services include Everything Networks, CLOUD Services, Cyber Security, Colocation – and our Consultancy services are designed to take your business to the next level.
Regardless of business size or sector ISUMO can connect it, secure it, host it and manage it for you, while seamlessly integrating into your tech team. We pride ourselves on delivering what our customers actually need, our team of technology experts speak your language and understand your objectives, but will also challenge your thinking to ensure we deliver solutions that work and keep on working.
So, whether you need a simple 8 phone VoIP solution or a seven-site global SD WAN network with high availability firewalls and hosted core systems – ISUMO will impress!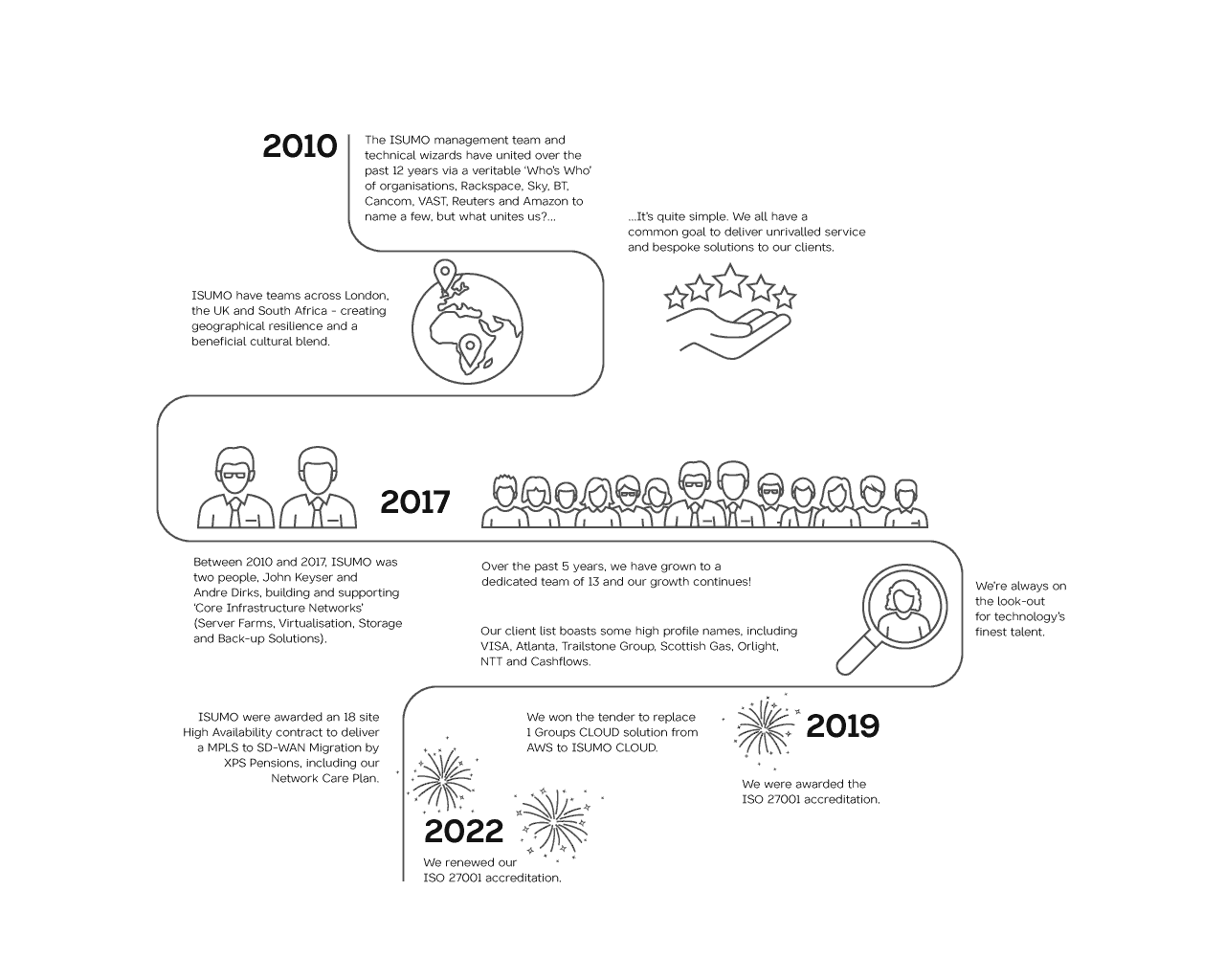 ISUMO – partnering organisations to develop and maintain superior technology platforms and network infrastructures to elevate their business
Solving technical challenges, delivering
superior solutions and service
Open & Honest
Open, honest, ethical and fair. Genuine expertise centered on
your best interests
Integrity
Trust in our integrity to deliver. Never over selling or over charging
Creativity
Finding solutions whatever the budget or technical constraints
Teamwork
Collaboration drives innovation and results

Network Visibility
Always have an eye on the health of your IT estate


Network Availability
Stay 100% productive


Network Security
Our multi-layered approach is impenetrable


Significant Savings
We deliver solutions that cut your costs


Added Value
We're 100% confident we will add value to your business


Customer Service
Working with us is a pleasure, our customers say so!
Complete our contact form below and we'll put you in touch with one of our talented technology experts. Go on… see for yourself what ISUMO can do for you!